Smileistry
Your smile is one of the first things others notice. It should show off your best self. Smileistry works with patients to give them a smile that will make them feel beautiful and self-confident.
Dr. Andrea Braun
Dr. Andrea Braun is a 1982 graduate of New York University, College of Dentistry, and continues to live her passion for dentistry. Early in her career, she served her country in the United States Navy and, from there, found her place in private practice in California and, more recently, Hawaii and Oregon.
Being a committed dental professional, combining technology and the philosophy of minimally invasive dentistry has always set her apart as a clinician. Dr. Braun is able to deliver cosmetic dentistry with a personal touch that has become a standard of care to be emulated.
Empowering the patient through education to enrich their knowledge of all that modern dentistry has to offer is a core principle to Dr. Braun's service. To that end, patients can experience a unique partnership where their essential needs meet wishes and dreams for the best possible dental outcomes.
Andrea and her husband reside in Roseburg, Oregon. With strong family ties ,professional responsibilities and relationships in Honolulu, they keep travel to Hawaii always in their calendar.
Process
At Smileistry, we work with you to create the smile you want and deserve. You are always part of the decisions we make to give you your perfect smile.
STEP 1
Discovery
Every smile begins with a complete consultation. We listen to you and walk you through each step of the process from start to finish.
STEP 2
Modeling & Rendering
The next steps to a new smile? We can show you the new you — virtually with a rendering. You'll see the Art of the Possible.
STEP 3
Test Drive
You are on your way. We prepare your teeth for your new smile. You have a temporary set of 'teeth' that you wear for about 2 weeks.
STEP 4
Procedure
Using veneers, crowns, bonding, and whitening, we complete the process. And your beautiful new smile is ready for the world!
STEP 5
Love Your Smile
Check in for any small adjustments and get fit for any night or day guards to keep your smile in perfect order. You won't stop smiling!
Before & After
Here are just a few of the before and after photos of the smiles we've changed. We'd love to be able to add your new beautiful smile to our portfolio!
I made the mistake of trying to straighten my teeth myself with a take-home kit! I was so upset at what happened, but I did not want to undergo full orthodontics to correctly position my teeth. When I met Dr. Braun and she suggested a few changes we could make that would help everything look straight and natural, I was excited to know all of my options. I cried with joy when I saw the final result and could not stop smiling!
I work as a dental assistant and have seen many dentists perform dental procedures. When I worked with Dr. Braun and observed her techniques, I knew I wanted her to fix my pointy incisors. I have been embarrassed when I smile, and now, I love smiling and showing off my normal and beautifully matching veneers. It was much easier than I expected, and I love the result!
I was very concerned about my front teeth as I got older, and thinking they would split up the middle where I could see the vertical lines! I had no idea how easy fixing them would be and that my smile would be repaired and so much sturdier! Thank you, Dr. Braun.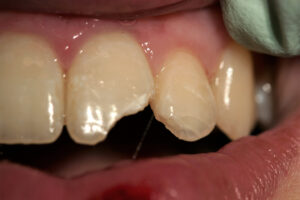 My 10-year-old child fell off his bike and broke his front tooth; I was fearful he would lose it! When Dr. Braun did her magic with bonding it back, I was so excited and relieved to know his tooth would stay intact and his smile would still be attractive while he grows up.
My mother, at 78, wanted veneers! She was very self-conscious about her receding gums and spaces that showed when smiling. I recommended she see Dr. Braun. Being a dentist specialist, I knew Dr. Braun would do the very best for my mother's smile! She is extremely happy she pursued the smile of her dreams!
I am a CEO, and interface with the public a great deal, and started to notice how worn down my teeth were, and with discoloration especially at the gum line. They were getting sensitive, too; I had to do something but did not like the idea of crowns. Dr. Braun had me "test drive" so that I could visualize what a bonded veneer could do for me. They both lightened the color of my teeth and restored their more youthful shape. I couldn't be happier.
For years, I have been dissatisfied with my front teeth. In the 1990s a dentist had crowned them, and I just was not happy with the outcome. This many years later, I decided to give another try, and Dr. Braun really delivered on the esthetic demands that I had. My gums showed a lot when I smiled, and my teeth never looked natural with my old crowns. Now they look so real; my friends say I look younger and thought I had plastic surgery!
I have been in the business of dentistry for many years and know that when a skilled esthetic dentist and lab tech work in harmony, the results can be amazing. In my late 20's, my teeth were fixed to disguise a missing incisor. Over time, those crowns looked bulky and fake, and I knew they could be improved upon. Dr. Braun redesigned my smile so that by my wedding day, all of my photographs show how happy I am! I am so glad I found Dr. Braun in time to help me prepare for my big day.
Frequently Asked Questions
We are happy to answer all of your questions about attaining a new, beautiful smile. Here are a few that we are often asked:
What is Cosmetic Dentistry, and how is it different from General Dentistry?
pat@covertcommunication.com
2023-06-27T01:39:36+00:00
Cosmetic dentistry combines both art and science to give you a healthy, aesthetic, flawless smile. While general dentistry is aimed at maintaining the health of your teeth and gums, cosmetic dentistry provides comprehensive treatment options that improve and preserve the way your smile looks and feels.
Common cosmetic treatments include:
Teeth whitening
Contouring/tooth reshaping
Bonding
Veneers
Tooth colored fillings
Smile makeovers
Contact Us
Helping people look and feel better about their smiles is our favorite thing to do! We'd love to discuss the possibilities with you.
Let's Talk Teeth! (808) 379-8334